At Aquilinesoft, we create powerful, database-driven, custom software applications for business. Our services range from outsourced IT to in house staff, consulting services to business process automation, website development, eCommerce solutions, mobile apps, mobile web, and custom desktop applications. While working with our clients, our top priority is to understand their industry, business, challenges and goals; in order to provide them robust and powerful software solutions.
We specialize in delivering customized software solutions keeping in mind the entire life cycle of software development. We not only develop and deploy the software but also provide our extended services of operations, maintenance, support and business process outsourcing services.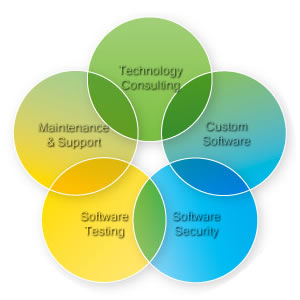 Aquilinesoft offers the complete software product development life cycle and support service. With the help of our dedicated product development and support teams, we love to build websites, apps, and sophisticated software that work.
Web Design & Development
Our creative & experienced designers & developers will create world class online experience for your visitors.
Custom App Development
Applications that improve efficiencies, reduces manual work, & save you time and money.
Business Process Automation
We can automate your current business processes by analyzing, documenting & optimizing them.
Methodology
Our methodology is based on sound project management and product development principles, which helps ensure our customers get reliable, cost effective services. To help ensure a successful project, we carefully follow the following steps:
Functional and Design Specifications to make sure functional and design issues are understood before project implementation starts
Prototyping to get early customer feedback and demonstrate important project features
Regular status reports and meetings so you always have up-to-date information on project status
Source code and design change control systems to ensure that project modifications, revisions and enhancements are tracked
Test plans and automated test suites where applicable to prove the final product deliverable does what it was intended to do
Definitive acceptance criteria to let everyone measure the quality of all deliverables against specific and objective criteria
Are we the right company for you?
The best way to determine whether or not we're the right company for you is to get in touch. You can do so either by contacting us using our Contact Us form or by submitting your project's information using our Request A Quote form.